Kerala, India del Sud
stagione dei monsoni

È mattino presto, e l'aria è fresca e bagnata per la lunga pioggia caduta durante la notte. Ramesh si aggira attorno alla casa e gioca con la sua capretta preferita. Anche oggi, come ogni mattina, porterà il latte alla Helen House, dove vivono quindici bambini in casa famiglia. Sarà un giorno particolare, in cui tutti i bambini riceveranno un regalo speciale da Michela, la volontaria occidentale. Ma il fascino di quella sorpresa non catturerà solo loro. Anche Ramesh è un bambino.

Kerala, South India
Monsoon season

It's early in the morning and the air is fresh and wet due to the continuous heavy rains of the night. Ramesh is wandering here and there around the house, playing with his favourite goat. Like every morning, today he is delivering milk to Helen House, where 15 foster children are residing. It will be a special day. All of them will be given a special gift by Michela, a Western volunteer. They are not the only ones to be captured by the magic of such surprise. Ramesh is a child, as well.

Kerala, Inde du Sud
Saison de la mousson

Tôt le matin, l'air est frais, encore humide des pluies nocturnes. Dans le jardin, Ramesh joue avec sa chèvre préférée. Puis, comme chaque matin, il ira livrer le lait à la « Helen House » une maison familiale où vivent quinze enfants. Mais ce sera un jour particulier car Michela, une bénévole occidentale, leur apportera un cadeau spécial qui les enchantera.
Ramesh, lui aussi un enfant, sera fasciné.
Low Cost Productions – Namaste Wings to Fly
presentano / present / présentent
RAMESH
un film di / film by / un film de
Antonio Benedetto
Fabio Campo

versione italiana:
english version:
version française:
scritto da / written by / écrit par
Antonio Benedetto
Claudine Tissier
Debora Nisi
Fabio Campo
Michela Nutricati
musiche / soundtrack / musique
SaReGaMa
con / with / avec
Achu (Ramesh)
Michela Nutricati (Michela)
i 15 bambini delle case famiglia Helen e Lakshmi
15 children from Helen and Lakshmi House
les 15 enfants des maisons familiales d'Helen et de Lakshmi
Ajith
Ajitha
Anilmon
Bibin Raj
Jareena
Mareena
Nikhil
Rajeev
Ramsi
Reshma
Santosh
Sherin
Sukanya
Suresh
Vijayeswaris
e la partecipazione speciale di / with special guests / et la participation spéciale de
Thankamma
Chinchu
Sasikala
Kanikkamary
Sandra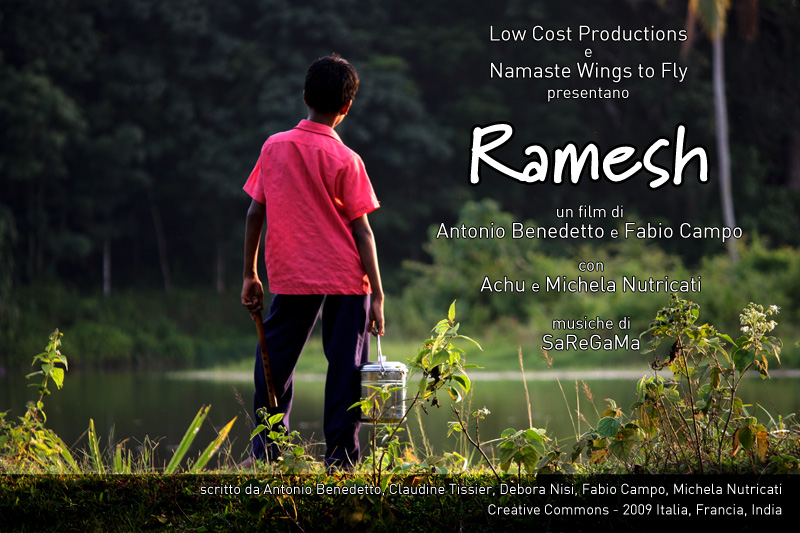 montaggio e fotografia / editing and photography / montage et photographie :
Antonio Benedetto, Fabio Campo
edizione / script / scripte : Claudine Tissier
casting : Claudine Tissier, Debora Nisi
assistente alla regia / director assistant / assistant à la mise en scène:
Tadeus Sebastyan
audio: Massi Aquilano
grafica: Luca Aquilano
assistenti alla produzione / producer assistants / assistants de production:
Jose, Udai, Johnpaul, Sasikala
effetti speciali / visual effects / effets spéciaux : Sarath
maestro di musica / music teacher / professeur de musique: Varun
catering / traiteur: Omana
trasporti: Maruti, Ambassador
Si ringraziano / Special thanks / Remerciements
Valeria Palmieri
Namastè Onore a te Onlus
Casa delle mamme
Ramachandran
Chandrababu
Mohan
Ganesh
Rita Galliani
Sindhu
Selvy
Chandrika
Nirmala
Santhya
Zac Franklin
Eran
Giuseppe Bruni
Angela Trovato
Michele Maroscia
Gianfranco Benedetti
Luigi Vincenzi

2009 – una produzione / a production / une production
Italia, France, India
(cortometraggio ritrovato – versione 2015)
website:
www.celestissima.org/ramesh (old)
www.lowcostproductions.org
www.namaste-adozioni.org
www.namastewingstofly.org
A tutti i bimbi di Namastè
e a quelli a cui e' ancora negata un'infanzia

Aux enfants de Namaste
et à tous ceux qui sont privés d'enfance

To all Namaste children
and all those who are still deprived of childhood