(Sarees on the wheels – Taxi in sari)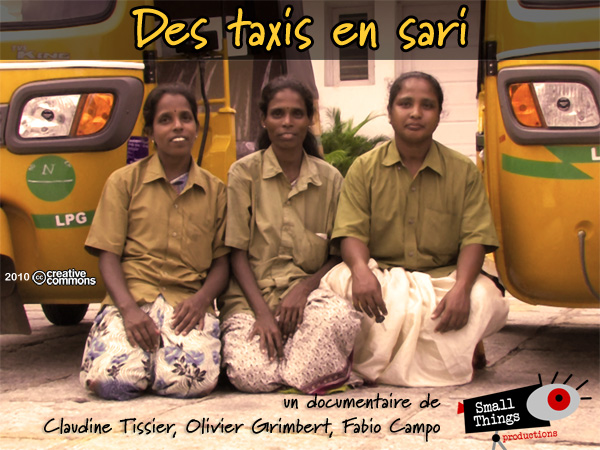 un documentaire de, a documentary by, un documentario di
Claudine Tissier, Olivier Grimbert, Fabio Campo
Ces trois jeunes femmes sont conductrices d'auto-rickshaws. Elles vivent dans un des plus grands bidonvilles de Chennai, le Gandhi Nagar.
Nous les avons suivies pendant 24 heures, de leurs maisonnettes au cœur du slum jusque dans le trafic mouvementé de la capitale du Tamil Nadu.
Avec une extrême gentillesse, elles nous ont confié des bribes de leurs vies, raconté leurs difficultés, leurs rêves.
Elles s'appellent Guna, Devi et Bhavani.

Queste tre donne sono guidatrici di auto-rickshaws. Vivono a Gandhi Nagar, una delle più grandi bidonville di Chennai.
Le abbiamo seguite per 24 ore, dalle loro casette nello slum, al traffico convulso della capitale del Tamil Nadu.
Con un'estrema gentilezza ci hanno confidato frammenti della loro vita, raccontato le loro difficoltà e i loro sogni.
Si chiamano Guna, Devi e Bhavani.

These three women are rickshaw drivers. They live in Gandhi Nagar, one of the most populated slums in Chennai.
We followed them for 24 hours, from their home to the slum, amdist the foolish traffic jam of Chennai, capital city of Tamil Nadu.
They opened their minds and hearts while shooting, telling the stories of their life, full of hardship and dreams.
Their names are Guna, Devi and Bhavani.
INTRO
(version française, 3'19):
LE FILM
(version française, 25'20"):
thanks to:
Guna and her family, Devi and Bhavani
Debora Nisi
Elodie Huther
Romain Ivanoff
Antonio Benedetto
Speed Trust
(Slum People Education and Economic Development)
Speed Trust Women auto-rickshaw project
www.speedtrustindia.com


Philippe Mallet, Stephen Dawson, Albert Selvakumar N.
filmed in Gandhi Nagar, Chennai, India
July 2010
soundtrack:
Original music by Alessandro Savino
and
"Inspiration" by Kunnakkudi Vaidhyanathan
"Go Ahead and Struti!" by Project Divinity
creative commons – 2010 – Small Things
Download:
DVD PAL (with english subtitles – con sottotitoli in italiano)
(file ISO – 1,5 GB)

Synopsis: français – english – italiano (pdf)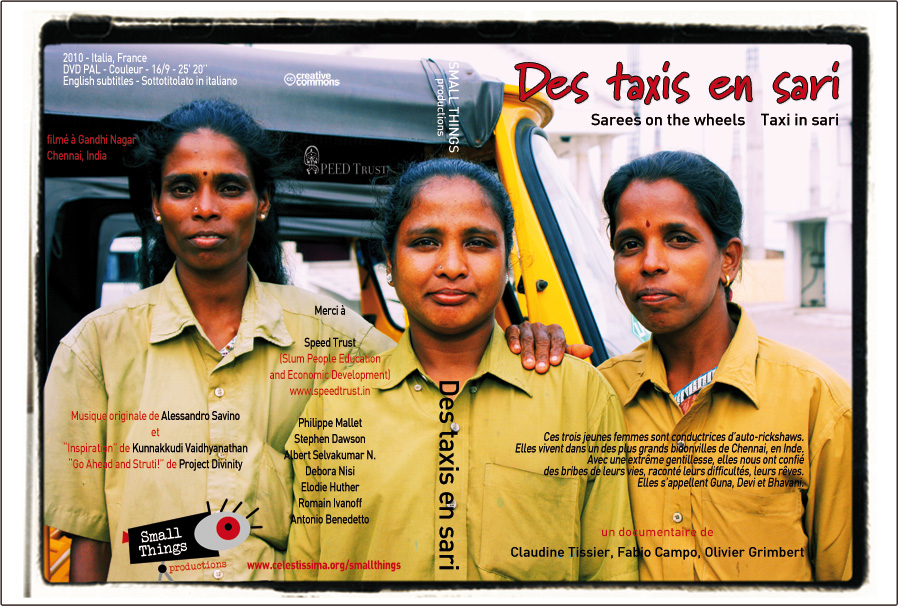 Gallery: